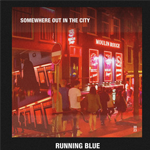 Running Blue's Electrifying 80s Flashback - 'Somewhere Out In The City'!
Crank up the cassette player because Running Blue just dropped a jazzy time-traveling sensation! Brace yourself for a musical journey back to the sizzling 80s with their electrifying release, "Somewhere Out In The City."
In an era where big hair, bold fashion, and dance beats reigned supreme, we also had a thriving rock scene in the vibrant 80s. Running Blue captures the essence of this niche with their infectious new track. "Somewhere Out In The City" takes you on a rollercoaster ride through the neon-lit streets of a city that never sleeps.
With lyrics that paint a vivid picture of urban life, the song encapsulates the essence of the 80s with the perfect blend of nostalgia and modern flair. As the beats kick in, you'll find yourself effortlessly grooving along, nodding to the playful bass and hearing the echoes of rock eras gone by.
"Somewhere Out In The City" is an anthem for dreamers and adventurers, beckoning them to hold their heads high and keep walking to the sound of the beat. It's a tale of resilience and hope, reminding us that even in the hustle and bustle of life, there's always a chance to find our own escape.
The hypnotic chorus takes us straight to the "red red room," a mysterious place where dreams get left by the door, and passions run wild. Running Blue's lead singer delivers a mesmerizing performance, effortlessly gliding through the melody and adding an extra layer of intrigue to the story.
The song's powerful message of self-expression and liberation resonates with today's audience, making it a timeless hit that bridges the gap between the past and the present. "Somewhere Out In The City" serves as a reminder that no matter the decade, music has the power to connect us all.
As you bask in the jazzy urban rock magic of "Somewhere Out In The City," you'll find yourself transported back in time, indulging in the glamorous nostalgia of the 80s. Running Blue's latest release is more than just a song; it's a vibrant tapestry of sounds and emotions that will leave you craving more. And you just can't beat that sax!
So dust off your retro attire, leave your dreams by the door, and get ready to embark on a thrilling adventure through time with Running Blue's irresistible 80s-inspired hit. Whether you're a seasoned rock enthusiast or a curious soul seeking a musical adventure, "Somewhere Out In The City" promises to be an unforgettable ride that will leave you craving for more of that neon-filled magic!
With plenty of remasters of their classic hits as well as new tracks like this, Running Blue have got something for everyone, and this fresh new era for the band is worth celebrating: and we can think of no better way than playing some more of this kind of heartachy, devil-may-care rock music. Whether you knew the group by the names of either The Zilths or Running Blue, or whether you prefer the remasters of their old work or their new compositions, there's plenty of them to go around for whatever flavour you like best! Running Blue are BACK, they're here to stay, and we can't get enough of them.
You can check out all the news on Running Blue at www.runningblue.net
Running Blue are a Blue Pie Records USA and Blue Pie Publishing USA ( ASCAP ) artist.
TRIVIA:
The Band Members:
Venues and Gigs:
The band played throughout 1985 and 1986 at many venues across Sydney including:
The Student Prince Hotel
The Rose of Australia Hotel
The White Horse Hotel
The St John's Formal | Sydney University
The St Paul's Formal | Sydney University
The Annandale Hotel
Riverview School Reunion Formal | Balmain Town Hall
The Band Comp | The Round House | UNSW