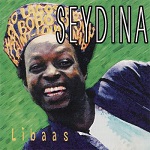 Seydina Insa Wade is back!
A remaster and digital reissue of Seydina Insa Wade's classic album Xalima is now on Spotify!

The album is a throwback to its original release in the mid 2000s, and has had no marketing as of yet, and yet has attracted major clout in just 14 days, with over 20,000 streams on Spotify and climbing!
The album has been remastered by our very own Damien Reilly and won 3rd place in the 2006 world music song contest! It's definitely a globally respected and recognised title, and we're glad to unveil it for the world to enjoy once more. It's a cut above the rest when it comes to world music, with swaying, pulsing rhythms and a great beat to back up the excellent instrumental and vocal talent on display. You'll find yourself rocking from side to side slowly as you listen to it! These are professional music makers, and it shows that talent is truly a global phenomenon.
To check out Seydina Insa Wade's Facebook, just click here to scope out all the latest updates!