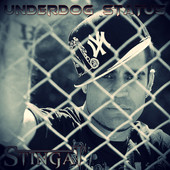 Stinga T Sets The Bar With His Latest Album 'Underdog Status'
Aussie hip-hop artist, Stinga T, has released his latest hit album titled "Underdog Status". Similar to his first album "Two Face", Stinga revives the old-school hip-hop but adds his own edgy flair to each track, which makes his music standout compared to most of today's hip-hop music.
His new album "Underdog Status" contains 8 tracks: 4 are the original tunes including 'Underdog', 'Wishing For A Better Deal', 'Dominating' and 'Who Got Our Back' and the remaining are the 'clean' radio edit version for those who aren't fond of colourful language in their songs. Stinga has also collaborated with other talented hip-hop musicians including Lil Jayo E to provide his listeners and fans with more epic and infectious tunes. His track "Who Got Our Back" featuring Lil Jayo E will also be released as a music video, which will come out soon. This Aussie talent has set the bar on his gifted hip-hop abilities and is sure to reach new levels of success with this release.
His album "Underdog Status" is now available through many digital retailers.
Purchase-Link