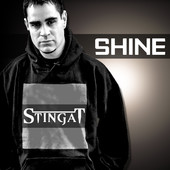 Stinga T's music 'shines' in his latest album!
Stinga T has been on a roll in the music scene within the last few years…and he certainly isn't holding back in 2014!
The Aboriginal rapper is at it again, already releasing his third new album called 'Shine' which has just been released on iTunes. Stinga T has a talent of keeping old school rap fresh, which is demonstrated in his music throughout the entire album. The only difference with Shine compared to his previous albums is that Stinga T has had more music collaborations with other talented musicians including Charlie Streetz, Lainie Jamieson, Ezra Juanta, Lil Jayo E; as seen through the number of duet tracks featured in the album including 'Money', 'Gone', 'Our Love', 'Success' and 'Shine'. Both musical talents blend effortlessly in each these collaborations. Along with these great duets, the album also features many tracks of Stinga T's unique style of hip-hop including 'Ain't Nobody', 'Grind on the Low', 'She's My One', 'Hi Hater' and 'Best Right Now'. Just like his previous albums, Underdog Status and Two Face, Stinga T puts his heart and soul in each track, which has resulted in a fantastic album filled with passion and determination.
If you want to hear a passionate hip-hop artist (which is hard to find!), you won't find anyone more passionate than Stinga T! You can even h
Purchase-Link