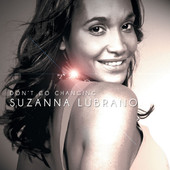 Suzanna Lubrano "Don't Go Changing"
Latin-pop singer Suzanna Lubrano's new single Don't Go Changing is now available on Itunes. The track is filled with Suzanna's magnetic voice and layered with dance-like synths. This song is sure to be a hit among euro-pop fans.
Suzanna has achieved so much attention in a short space of time, including No. 1 chart placements on the Urban charts for The Box (MTV Networks) and FunX Radio (The Netherlands' leading Urban radio station). Her ever-growing fanbase is likely to jump onto this song very quickly.
You can have a listen and purchase the song here.
For more information on Suzanna Lubrano, visit:
myspace.com/suzanna
Purchase-Link