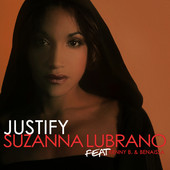 Suzanna Lubrano New Single
Netherlands based Suzanna Lubrano, has just released her new latin-pop single justify. Also featured on the track are Latin American singers Kenny B and Benaissa. Suzanna Lubrano is one of the most popular female pop artists in the Lusophone markets and has an ever-growing fanbase. Be sure to check to her out if you like the sounds of Shakira, Beyonce or Mariah Carey. While her trademark latin rhythms remain in this single, it appears to have an RnB/jazz-type influence.
You can have a listen and purchase justify here.
Purchase-Link