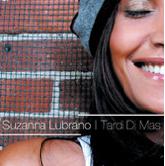 Suzanna Lubrano new track "Tardi di Mas" OUT NOW ON BLUE PIE
Suzanna Lubrano's hot new song and video clip called "Tardi di Mas" is out now on Blue Pie Records and Electrik Blue Records for the world ….AND the track is now available on iTunes for the world. Click on the link below to download now !
Suzanna Lubrano has been extremely busy working on the launch of her eight solo-album. The first single and video clip from the new album is an incredible Zouk Pop song called "Tardi di Mas" (In English "Much too late").
The song was produced by Akon's production partner Giorgio Tuinfort. The music video was created by Ferry van Schijndel and Joanna Wesseling. The song "Tardi di Mas" is not the first project for Suzanna Giorgio Tuinfort and looks like there will be many more songs on the way. Giorgio Tuinfort produced Suzanna's impressive 2004 song "Silencio". Giorgio Tuinfort has produced songs for many superstars including Akon, Michael Jackson, Black Eyed Peas and Gwen Stefani to name just a few.
Ferry van Schijndel and Joanna Wesseling who were responsible for the music video of "Festa Mascarado" have become great fans of Suzanna's incredible vocal range and talent. The "Festa Mascarado" clip and the song were the winner of the Best Cape Verdean Music Video in 2009/2010. The clip featured Michael Jackson's "This is it" dancer Timor Steffens as Suzanna's on screen co-star.. Timor won fame in the Dutch version of "So you think you can dance".
For the hot new song
Purchase-Link