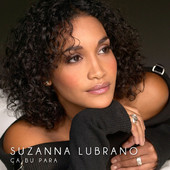 Suzanna Lubrano's Single 'Ca Bu Para'
Suzanna Lubrano's new single Ca Bu Para is now available on Itunes. This slow-jam track is filled with afro latino beats, layered with Suzanna's smooth seductive vocals – perfect for a late night chill. With a voice often compared to that of Cloria Estefan, Celine Dion and Mirah Carey, Suzanna is drawing a lot of attention to herself, not only in her hometown on the Netherlands, but worldwide.
Her success has gone far and wide. She received Gold and Platinum albums in the Lusophone market. Suzanna is also the winner of the 2003 Kora All African Music Award for Best African Female Artist, in a televised event (held in Johannesburg, South Africa) watched by millions of people in Africa and beyond. She has also won the 2010 Museke Online African Music Award for Best African Artist based in the Diaspora, being the only Cape Verdean artist to be awarded in an election dominated by the major English and French language African countries. In 2011, Suzanna Lubrano was the most awarded female solo artist at the internationally widely televised first Cabo Verde Music Awards Show (CVMA), winning two awards for her song Festa Mascarado.
You can check out the song here.
For more information on Suzanna Lubrano, visit:
suzannalubrano.com
myspace.com/suzanna
Purchase-Link