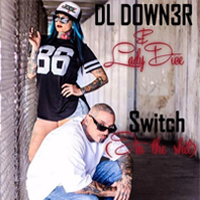 'Switch' on this sick beat by LadyDice and DL Down3r
The moment 'Switch' starts playing you'll be presented with undeniable energy. The tune has a fast, consistent beat supplemented with a rapid, lyrical potion representing the best of Californian RnB. You can hear the chemistry between the duo as they bounce off each other increasing the intensity of the song.
DL Down3r claims his music is a lyrical recording of real-life, often using his experiences in prison and on the streets as the drive behind his music and no doubt this piece captures street-life in a poetic, powerful beat. LadyDice and her swift voice increases the emotion behind each lyric and presents a refreshing side to the tune making it the perfect consistency between the two voices.
This song is an epic lyrical masterpiece with a unique energy behind it, distinguishing it from typical RnB.

Artist Links:
To listen, follow the links below: