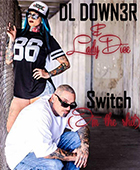 Take a walk on the wild side with the release of LadyDice and DL Down3r's feverish new track, 'Switch' and watch the behind the scene's video they shot for " What if "
The pair have been going from strength to strength, churning out material after kicking down the door with their SUGA BOOM BOOM tour and subsequent collaborations like the remarkable "Throw It Up". These two appear to have an enduring artistic chemistry, and the latest product of their collaboration is a fresh sound which still showcases the style that made both Down3r and LadyDice famous in their own right. It's good to see the pair incorporate some unexpected stylistic elements and keep pushing their craft to new heights. LadyDice injects her incredible vocal powers into all she does and this track is clear signs of greatness.
Watch their behind the scene's video for " What If " out later in March.

Switch is a trippy trip-hop/rap track that bends notes to the breaking point and laces in high tempo West Coast lyrical flow. It's a little unconventional but effortlessly slick and a track that will be right at home on the Paris Night Club dance floors. A euro club banger is what we think.
Both of these great artists have a huge fan bases and all the stuff they put out picks up steam until it's too hot to handle. If Switch doesn't keep you satisfied then check out their recent tracks, solo material, or revisit the classics using the links below.
Switch Links
Switch ( I'm The Shit ) – iTunes
https://itunes.apple.com/us/album/switch-im-the-s-t-single/id1207129441
Switch ( I'm The Shit ) – Spotify
https://open.spotify.com/album/3FWZv6dPkCChrwPqlzuwTM
Switch ( I'm The Shit ) – Amazon Japan
https://www.amazon.co.jp/dp/B06W9LCQFY
Switch ( I'm The Shit ) – Naptster
http://us.napster.com/artist/lady-dice/album/switch-im-the-shit
Switch ( I'm The Shit ) – Tidal ( Jay Zee's music store )
http://tidal.com/au/store/album/70580186
Switch ( I'm The Shit ) – SoundCloud

Social Media
Facebook: www.facebook.com/dldownerandladydice
Down3r Facebook: www.facebook.com/Downer-FanPage-139151229786340
LadyDice Facebook: www.facebook.com/LadyDice1790/?fref=ts
Down3r and LadyDice Facebook: www.facebook.com/dldownerandladydice/?fref=ts
Down3r Twitter: www.twitter.com/jwdown3r
LadyDice Twitter: www.twitter.com/ladydice7
Down3r Instagram: www.instagram.com/dldown3r
LadyDice Instagram: www.instagram.com/ladydice1790
Music – LadyDice
itunes.apple.com/us/artist/lady-dice/id1700844
www.beatport.com/release/beast/1746291
Music – Down3r
itunes.apple.com/au/artist/downer/id201669266
www.beatport.com/artist/down3r/574391