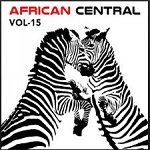 The African Central Series is about to be the center of your musical appreciation!
Can't get enough of our stockpile of Afrobeat, Afropop, Afrogroove, and other African music? Was last time not enough? Well, we might just have a series of compilations to quench that thirst.



From just a bit of cursory listening, you'll hear the amazing beats at play here, perfect to dance or chill out to, making this worthwhile for a party with varied tastes! And while volume 15 is the most popular one (for good reason) all of them share the same amazing quality. But volume 15 in particular has two amazing tracks that stand out a little more- Wakey Wakey and Infinite Kif.




The Constructus Corporation and Watkin Tudor Jones are excellent artists so this comes as no surprise. And of course, as stated, this album isn't where the majesty ends! Check out Bang On The Drum on Volume 21!



All of these amazing musical journeys can be found on all leading retailers, including Spotify of course, simply by searching "African Central". There are a LOT of different albums under this title and each one is an unforgettable journey into African culture and music!





There's hours of content available for your consumption and many MANY talented artists have made this possible, so no matter what mood of party you're planning, this music will have something for you. Perhaps something beyond the occasions you'd expect- life sadly cannot only consist of parties, and of course, these albums reflect that with a few surprises here and there which follow a different tone. We won't give it away though- go forth and explore. Musical adventure and fantastic quality awaits.