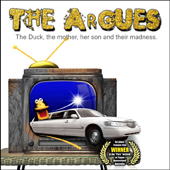 The Argues Soundtrack - Don't Argue with it!
'The Argues' Soundtrack is now up on Itunes! Now you can get your skank on with Leon any time of the day with 24 awesome tracks handpicked by the Blue Pie Team. This compilation is great. Why do we know it's great? Because we picked it and we have awesome taste.

ARTISTS FEATURED: Sam Pollard, Aerial Spans Earth, Diggsville, Erik Simins, Marvel & Marvel, Sahra, Southpaw, Bleek, Dave Evans, Dave Sharp, Didge on Fire, Barry Crocker & Dino Jag, Lawrence Blatt, Nat Viola, The Judes, The Yeehaa Boys, Total Karnage, Tyz and Daniel Waho.

If the Soundtrack does not provide you with enough of the skank, the DVD will be released soon in 2011 (Exact Date TBA).

In the meantime, Leon Skank is quite the Social networker! Follow his every move at the following sites: