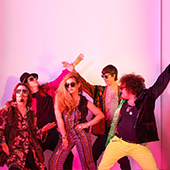 The Devyls gets down and righteous with Nelly Levon keeping him dancing with the righteous funk pop drinking a " Bloddy Mary "
Let's be honest, the world is feeling a little less funky these days, and we could all use a little more funk and love. New York City's The Devyl Nellys are on a mission to change that with their spunky party music. Fronted by the charismatic singer Nelly Levon, the group got together in 2011 and found that they all shared the same vision for creating catchy tunes that could strike a balance between funk, rock and soul, and would be anchored by a mutual love of giving their audience the rowdiest, most fun concert experience possible. So far the group has found success in doing just that, opening up for acts like The Allman Brothers, among many others.
This summer The Devyl Nellys are taking their funk-pop to new heights with the release of their sophomore LP Delicious Business, and today we are excited to present an exclusive premiere of one of the album's standout tracks right here on Glide Magazine. "Bloody Merry" is a delightfully funky romp that feels like a lovechild of Parliament Funkadelic and No Doubt meets Sharon Jones with a thick, infectious groove.
Singer Nelly Levon may put it a little better when talking about the song: "It's A Wham! Bam! Thank You Maam! Tune we loved coming up with and have a ton of fun performing. The lyrical concept is centered around our guitarist's relationship with hemophilia. Hence Bloody Merry …"
Listen to "Bloody Merry" on SoundCloud:

Check out the Glide Mag story here:
www.glidemagazine.com/165623/song-premiere-devyl-nellys-bloody-merry
The Devyl Nellys will release Delicious Business later this summer. For more info, music and tour dates check out thedevylnellys.com or visit their Facebook page.