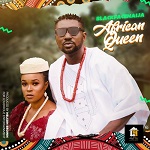 The legendary African Queen has finally gotten the video and single it deserves!
BlackFaceNaija has often had new fans discover him through his legendary African Queen track. It's quite possible that many readers reading this now will find the sight of this album pleasantly familiar!
Well no longer will the track end up buried. With songs this good, they deserve to be released as singles so they have a chance to shine all on their own! As good as the rest of the album is, we're certain plenty of people looped African Queen on repeat once they heard it for the first time, the play numbers alone tell us that. Well, finally, African Queen now has its own single AND brand new shiny music video!
At long last, African Queen will be able to stand on its own two feet, as it's distributed rapidly across all major online retailers and streaming services such as Spotify. Taking on all bets, how quickly will these play numbers skyrocket for this standout smash hit? Judging from the album version, the single version has a long way to travel, but should have no trouble blowing up in a similar fashion! How quick will it beat 4 million? Well, given that it's already broken a thousand plays on Spotify and 84 thousand plays on Youtube after it being released only recently… we'll have to wait and see. But we have high hopes with THAT kind of popularity!
BlackFaceNaija has really made a name for himself lately, and every day his music furthers his shining star in the musical cosmos. This is just one example of the quality he regularly produces!
BlackFaceNaija is a Blue Pie Records USA artist and published exclusively by Blue Pie Publishing USA. For more information on BlackFaceNaija please check out the following links.
BLACKFACENAIJA OFFICIAL LINKS: