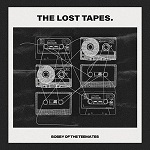 The Lost Tapes: Gabe Rizza's Miraculous Audio Restoration Brings Bobby of The Teemates' Post-Punk Masterpiece to Life
Niche music lovers are about to be abuzz with excitement as the long-lost album, "The Lost Tapes" by Bobby of The Teemates, has been unearthed and restored by none other than the talented audio engineer, Gabe Rizza. The album, which was recorded back in the early '80s, features a post-punk sound that hearkens back to the era of Joy Division and New Order. Now, thanks to the efforts of Gabe Rizza, the world can finally hear the stunning music that was recorded all those years ago.
The album is a true masterpiece of post-punk music. With haunting melodies, driving rhythms, and thought-provoking lyrics, each track is a gem in its own right. Gabe Rizza's work in restoring the audio is nothing short of miraculous, as he has breathed new life into each and every song on the album.
As soon as the first notes of the opening track, "Bad Business," hit your ears, you know you're in for a treat. The guitar work is crisp and clean, the bass is thunderous, and the drums are tight and precise. The vocals are raw and emotional, and they draw you in with each passing moment.
The album takes you on a journey through the dark and moody landscape of post-punk music. Each song is a testament to Bobby of The Teemates' talent and vision, and it's clear that they were ahead of their time.
It's not often that we get the chance to hear music from the past that's been lost to time. But with "The Lost Tapes" by Bobby of The Teemates, we have a rare opportunity to experience the magic of post-punk all over again. And we have Gabe Rizza to thank for that.
So, if you're a fan of post-punk music or just great music in general, do yourself a favor and check out "The Lost Tapes" by Bobby of The Teemates. It's a masterpiece that deserves to be heard by music lovers everywhere.
OFFICIAL LINKS: