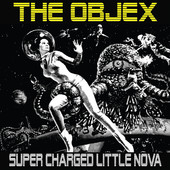 The Objex "Super Charged Little Nova"
This has been an exciting year for fans of in-your-face, high energy punk rock and roll with the release of The Objex new album "Supercharged Little Nova". This eight track gem will grab your attention immediately and take you back to a time when punk was at its best, moshing was a must and brutally honest lyrics were a big fat "F U" to a society that expected its musicians to conform to the ways of the world.
Formed in 2006 and fronted by Felony Melony, this punk/rock band is absolutely dripping with attitude, sexual innuendos and charisma. A tight rhythm section in the form of Ch!li on drums and Ivan on bass creates a wall of sound perfectly complimented by Jim Nasty's catchy and distinct guitar lines. The Objex took out the prize for best punk rock band in 2010 at the Vegas Rocks Awards and they have been gaining more and more momentum since then. Work began on their newest album "Super Charged Little Nova" in LA back in 2012 with producer Andy Carpenter ready for its release this year in May 2014.
This album is a must have, so do yourself a big favour and go check it out!
Purchase-Link