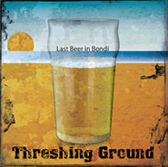 Threshing Ground release EP titled "Last Beer In Bondi"
Blue Pie are excited to announce that Aussie based pop/punk band Threshing Ground just released their new EP titled "Last Beer In Bondi".
The incredible new piece by the band includes song titles such as "Last Beer in Bondi", "Any Whole's a Goal" and "Tyranny of Blues".
Despite their likeliness to a number of different genre's, their influences of Lou Reed, The Ramones, The Clash, David Bowie, The Cure, Neil Young and Johnny Cash (to only name a few) have given the band music which is undeniably raw sound which is undeniably communicated through the newest EP.
So make sure you check out their official MySpace page for information on tour dates and the purchase link below to get your hands on the new album!
Purchase-Link