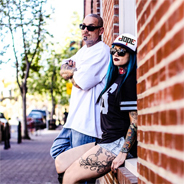 Throw it up, LadyDice and DL Down3r have produced another lyrical masterpiece
The iconic duo have collaborated again to produce their newest single 'Throw it up' which is dedicated to California. 'Throw it up' produces a smooth sound complemented with an intense lyrical rhythm and undoubtedly highlights the passion the two artists have for California.
The difference in rapping styles and tone of the two artists successfully supplement each other and creates layers to the song increasing its intensity and catchy vibe.
This song is another club anthem and a devotion to the streets of Los Angeles. It is a sheer representation of the best of Californian rap and is produced with raw emotion and admiration that can be heard through both artists. The song has had over 200,000 views and been virally shared across numerous social platforms.
'Throw it up' represents California, its people and the talent it produces
Check it out below:

Artist Links: