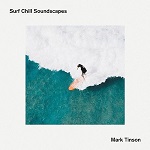 Tinno's Beachy Groove: Mark Tinson's 'Surf Chill Soundscapes' EP!
After decades of electrifying the Australian music scene with his rock anthems, Mark Tinson, also known as Tinno, is back with a surprising twist. The former member of the legendary Australian rock band Rabbit, who has been shaping the music industry for over half a century, is making headlines again. This time, it's for his latest EP that's poised to revolutionize the world of chillout music. Mark Tinson, affectionately known as Tinno, has recently dropped his "Surf Chill Soundscapes" EP, in a remarkable departure from his heavier rock roots. Tinson has seamlessly transitioned into a new musical realm, bringing groovy beach vibes that are bound to captivate a new generation of music lovers, while still staying true to his origins as a guitar master in this new context.
It's amazing to see an artist with such a rich history in rock music reinvent himself so successfully. Tinno's 'Surf Chill Soundscapes' EP is a breath of fresh air in the music industry. It's a testament to his versatility and enduring talent. But of course it has a distinct edge of familiarity, with Tinson taking what he's learned from his breadth of experience in the music industry and applying it in the best way possible.
The EP, a mesmerizing collection of tracks, invites listeners to embark on a sonic journey through sun-soaked beaches, crystal-clear waters, and the laid-back surf culture that has long been associated with the Australian coastline. Tinno's smooth guitar melodies transport the audience to a world where relaxation and tranquility reign supreme.
Mark Tinson's career has been nothing short of illustrious. From his early days with Rabbit to his work as a producer and mentor for some of Australia's biggest music acts, his influence on the industry is undeniable. Over the years, he has shared the stage with renowned bands such as Heroes, Swanee, Tex Pistols, and TMG, leaving an indelible mark on the Australian music scene.
Notably, Tinson's talent extends beyond performing. He has produced and engineered records for some of the most iconic names in Australian music, solidifying his reputation as a multifaceted music maestro. His mentorship has also played a pivotal role in shaping the careers of emerging talents like Screaming Jets and Silverchair.
Now, with "Surf Chill Soundscapes," Tinno has proven once again that his musical prowess knows no bounds. The EP is already turning heads, and is set to be a summer anthem, providing the perfect soundtrack for beach days, sunset gatherings, and late-night bonfires.
Mark Tinson's journey from rock legend to the mastermind behind "Surf Chill Soundscapes" is a testament to the enduring spirit of creativity in the music industry. His ability to reinvent himself and connect with audiences across generations is a testament to his status as an Australian music icon.
As the world tunes in to Tinno's latest creation, it's clear that this seasoned performer and songwriter is not only making waves but riding them to new heights in a captivating musical voyage. "Surf Chill Soundscapes" is the sound of an artist in full bloom, and it's one that music lovers won't want to miss.
But if you're still unfamiliar with the man himself, Tinno is a talented musician who made a significant impact on the Australian rock scene. During his time with Rabbit, Tinson played alongside Dave Evans, who was the original lead singer of the legendary rock band AC/DC. As a band mate to Evans, Tinson was a part of some of the most electrifying performances in the early days of Australian rock, and so remains a revered figure in the annals of rock history.
Working with Stacey Tierney of Scallywagz, Mark continues to bring the music to life via children's groups today. As the head teacher at Grove Studios in Newcastle, Mark shares his wealth of knowledge and experience with aspiring musicians. His collaborations with Australian and international musicians have produced a unique catalogue of instrumental guitar albums, including the beloved album Surfcats.
Mark remains an active figure in the music industry, regularly appearing on ABC Radio and giving lectures at the Newcastle Conservatorium of Music. He has documented his musical journey in his autobiography, "Too Much Rock 'n' Roll. A Life in Music", which is a must-read for fans of the bands he has performed with, and anyone interested in the development of rock music in Australia.
Don't miss out on the opportunity to learn from the man himself – Mark Tinson. Get your hands on his discography and book, and experience the musical prowess of the Godfather of Newcastle Rock Music.