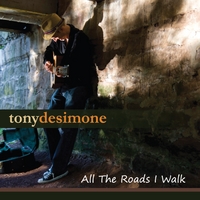 Tony DeSimone Walks The Walk To A Fantastic New Album Release
The team at Blue Pie are excited to announce that one of our talented artists, Tony DeSimone, has released a new album for your aural pleasure titled 'All The Roads I've Walked'.
The latest album includes 6 tracks of indie tunes from the upbeat, toe-tappin' "Blame It On Me" to the deep, heartfelt acoustic "More Than Lost". The album has recently been released and ready for you to download on cdbaby.com in the link below and will also soon be released on iTunes to download and purchase. To preview the first single of the album "Afterthought (I Don't Want To Be)", click here for Tony's official YouTube channel. The video has already received over 700 playbacks!
For the latest info on Tony DeSimone and his music, check out his official website here.
Purchase-Link