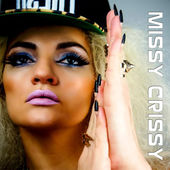 Too Hot To Handle…Missy Crissy is in the studio cooking some new hits !!!
DJ Central recording artist, Missy Crissy should be in everyone's Spotify/ iTunes playlist. She started her career at a very young age and since then her talent and work ethic have grabbed the attention of Europe and the rest of the world.
Her first single "Let Your Love Out" was released in 2011 and in 2012, Elle Fashion Show Magazine did a feature on her due to her rising success. Now her electronic pop hits capture the imagination of her listeners, transporting them to another place. With over 3 million Youtube plays and growing she has certainly elevated her status and become an artist to watch in 2016.
Her self titled album "Missy Crissy" was released earlier this year on DJ Central Records and is the energetic blend of electronic beats and pop vocals she has become known for. She is currently based in Shanghai, China, but throughout the rest of the year she will be touring in both Europe and China and completing 2 new singles with the DJ Central Records production team.
Also a lover of art, she has over 10,000 dedicated Instagram followers
For those who want to see more of this stunning artist you can check out her Intagram here: http://bit.ly/2cWGunT
Don't forget to hit follow on Spotify and check out her music on iTunes and Youtube!
"Missy Crissy" (album)
https://itunes.apple.com/au/artist/missy-crissy/id479016403#
"Missy Crissy" (Comp Cards)
"Let Your Love Out" (single)