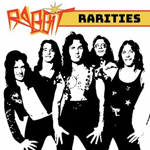 Unleash the golden age of rock with Rabbit's RARITIES - remastered!
Prepare to be transported back in time to the glory days of rock 'n' roll as Rabbit's iconic single "Rarities" receives a remarkable digital restoration, taking its sound quality to new heights. Thanks to the meticulous efforts of the talented team behind the restoration, this timeless classic is now available on Spotify, sounding as crisp and vibrant as if it were recorded just yesterday. Brace yourself for an unforgettable auditory experience that showcases the exceptional musical prowess of Dave Evans and Mark Tinson.
Immerse yourself in the intoxicating soundscapes of three revitalized tracks that have shaped the very essence of rock 'n' roll history. Lady La Le Da, Too Much Rock n Roll, and Wildfire are back in all their glory, polished to perfection and lovingly restored for the modern era, showing that these truly are some unearthed musical rarities.
With a dedication to preserving the authenticity of Rabbit's golden era, the restoration team has meticulously breathed new life into these timeless classics. The result is nothing short of extraordinary – a sonic transformation that will leave you awe-inspired. Every guitar riff, drum beat, and soaring vocal note has been meticulously enhanced, taking advantage of cutting-edge technology to bring out the true essence of these iconic anthems.
Lady La Le Da emerges from the depths of time with a renewed vigor, its infectious hooks and mesmerizing melodies captivating a new generation of listeners. Prepare to be transported to a world where rock 'n' roll reigns supreme, as Dave Evans's powerful vocals take center stage and Mark Tinson's guitar prowess shines brighter than ever before.
Too Much Rock n Roll is an unapologetic tribute to the rebellious spirit that defined an era. Brace yourself for an adrenaline-fueled ride as the unmistakable energy of Rabbit's performance reverberates through your speakers. The thunderous drums, blistering guitar solos, and infectious rhythm will have you on your feet, ready to unleash your inner rockstar.
And then, there's Wildfire. This electrifying masterpiece ignites like an unstoppable force, engulfing you in a whirlwind of passion and raw emotion. As the timeless lyrics intertwine with the explosive instrumentation, you'll find yourself swept away on a wave of pure musical euphoria. Surrender to the irresistible pull of this sonic inferno and let it consume you.
Considering the musicians behind the wheel of these hits, it's little wonder they came out as awesome as they did. For aficionados of golden oldie rock in Australia, Dave Evans needs no introduction. As one of the original members of AC/DC and a former member of the electrifying Rabbit, Evans has established himself as the hardest working man in rock. His reputation has now expanded far beyond the Australian shores, captivating the hearts of music lovers across Latin America with his thrilling live performances. And if you thought 2022 was an incredible year for Dave, get ready for an even wilder ride because he's showing no signs of slowing down in 2023, with a tour ready to blaze through Finland!
But that's not all; brace yourselves, fans of Dave Evans and Mark Tinson, because Rabbit is back! Prepare for a rock 'n' roll revival as we announce the forthcoming release of a brand-new Rabbit track at the end of the week.
Dust off your air guitars and get ready to unleash your wild side, as this upcoming track promises to transport you back to the glory days of classic rock. Titled "We'll Never Get Too Much Rock n Roll", it's not a restored or remastered Rabbit track—it's a fresh creation that will have you craving more. That title might seem familiar though, and it's because it's the sequel to the original Never Get Too Much Rock And Roll, sounding quite different to the original but all about the same head thrashing lifestyle that they sang about back in the day – so it's both original and fresh! So you have the remastered version from Rarities AND the all new version to look forward to! And that's not all; Rabbit is about to be immortalized in animation, bringing their electrifying performances to life in a whole new way. That's coming up soon, so stay tuned to our news and social media for more info – in the meantime, check out this throwback from Dave himself about a single you can rock out to from our catalogue with him! BABY BLUE EYES!
Now let's turn our attention to the Godfather of Newcastle Rock Music himself, Mark Tinson. With an illustrious career spanning over half a century, Tinson has left an indelible mark on the music industry. From his time with Rabbit to his contributions to acts like Heroes, Swanee, Tex Pistols, and TMG, his talents as a performer, songwriter, producer, and engineer have been sought after by some of the biggest names in Australian music. He has even mentored the likes of Screaming Jets and Silverchair, leaving an everlasting impact on the next generation of rock stars.
During his tenure with Rabbit, Tinson joined forces with Dave Evans, the original vocalist of AC/DC, to create electrifying performances that would go down in history. Their synergy on stage was palpable, leaving audiences in awe of their musical prowess. Together, they crafted a sound that defined the early days of Australian rock, establishing themselves as revered figures in the annals of rock history. And that breadth of experience has left us with Rarities as undeniable proof of talent and passion.
Rabbit's "Rarities" is more than just a restoration; it's a celebration of rock 'n' roll's enduring legacy. It's a testament to the indomitable spirit of a band that captivated audiences worldwide. So, crank up the volume, let the power of these resurgent tracks wash over you, and immerse yourself in the magic of Rabbit's unforgettable music. The wait is over, and the experience is simply unparalleled.
So, rock enthusiasts, prepare to embark on a sonic journey like no other. Dive into the restored version of Rabbit's "Rarities" and let the mesmerizing combination of Dave Evans and Mark Tinson's classic rock playing and vocals ignite your passion for the good old days of rock music. With the upcoming release of their new track "we'll never get too much rock and roll" and an animated tribute on the horizon, Rabbit is poised to reclaim their rightful place in the pantheon of rock legends. Get ready to be transported back to a time when rock 'n' roll ruled the airwaves, and let the music reignite your love for the raw power of classic rock.
Dave Evans:
Mark Tinson: