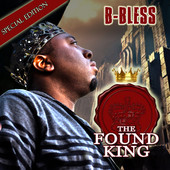 We Found The King.....and he lives in Queens !
B-Bless brings back the drum-machine rhythms to create a polished record production stye. This album inspires dance as the lush vocal arrangments and electronic influences create smooth r&b and soul tracks.
"I'm just trying to bring good and respectable music back to New York" Bless states. Because of his drive and determination, B-Bless has successfully made a mark in his territory by a "word of mouth buzz". He exposes an audience to his attractive stage presence, technical ingenuity and diverse music selection.
Bless' lead single "She's looking good", a vibrant song with riveting, yet subtle synths behind it, allows listeners to know that he is here.  His follow up single "Let it go" is just as strong, showing that the music he still got his hit making skills from the previous years of his group.  His debut "The Found King" is due out July. Stay tuned, for the King will arrive.
Purchase-Link