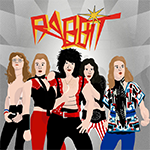 We'll Never Get Too Much Rock n Roll! The Rabbit boys immortalised in animation!
Only the true golden oldies will remember when this released for the first time… and like so many things in today's world of quick and messy entertainment, they should feel proud for remembering!
That's right, it's Rabbit, otherwise known as what AC/DC's first vocalist Dave Evans made of himself after splitting with the band. Rabbit garnered a loyal cult following in their own right, taking the lessons learned from the early days of akka dakka and the rock music industry at large, combining numerous talents and depths of experience such as Mark Tinson and his understanding of the Newcastle rock scene, and Rabbit was away.
But why are we talking in past tense? Rabbit never actually left us completely. They just waited for the opportune moment… and with the release of "We'll Never Get Too Much Rock n Roll", that moment is finally upon us.
Get ready to unleash your inner rock god because glam rock is back, and Rabbit's latest single, "We'll Never Get Too Much Rock n Roll," is here to transport you straight to the golden days of the '70s. From the moment the first note hits, this song commands your attention and makes you want to rock out like never before. With its infectious energy and undeniable swagger, it effortlessly brings back the essence of that era while infusing it with a fresh and renewed sound fit for the 2020s. Rabbit, the legendary cult classic band, has solidified their status with this electrifying anthem that leaves no room for doubt. So, if anyone questions their prowess, just play them this track, and it's guaranteed to silence even the harshest skeptics! That's right, Rabbit are well and truly back and have an animated music video to pair with their latest single, no less!
The song was recorded just this year, but keen and knowledgeable fans of Rabbit will point to its familiar-sounding title, particularly relating to the first video in this article. Is this a remix, a remaster, what?
It's actually a unique track all of its own. You could consider it a sequel track of sorts to Too Much Rock n Roll, but that isn't the whole truth either. The song is so named because its lyrics are a compilation of verses taken from different tracks on Rabbit's second album, known as "Too Much Rock And Roll." It's a tribute to Rabbit's legacy in music, and is sure to get devoted fans picking out where the lyrics came from and reminiscing about one of the most underrated rock acts out of Australia, and perhaps the entire world… we have a feeling that Latin America would agree in particular regarding that latter point, considering the royal treatment they've been giving Dave Evans as a solo artist on tour lately!
"We'll Never Get Too Much Rock n Roll" is a testament to Rabbit's musical prowess, skillfully produced, engineered, and mixed by the talented Mark Tinson. Recording this gem took place at the prestigious Steelville Studio, nestled in the heart of 40 Princeton Avenue, Adams Town Heights, 2289 NSW. The band lineup on this exhilarating journey consists of Mark Tinson on guitar and backing vocals, whose riffs will ignite your soul. Dave Evans takes the helm as the lead vocalist, his powerful voice leading the charge. Dave Hinds channels his mastery through the lead guitar, adding fiery solos and harmonizing with Tinson's backing vocals. Jim Porteus locks in the rhythm with his bass guitar skills and contributes to the vocal harmonies that elevate the track. Finally, Phil Screen brings the thunder on drums, driving the song's infectious beat and ensuring that you'll be moving to the music in no time.
Released and published by Blue Pie, "We'll Never Get Too Much Rock n Roll" is the ultimate anthem for all the rock enthusiasts out there. So grab your air guitar, turn up the volume, get mesmerised by the stylish and eye-popping animation accompaniment, and let Rabbit take you on a wild ride back to the glory days, while making new memories that will undoubtedly stand the test of time. Rabbit is poised to reclaim their rightful place in the pantheon of rock legends. Get ready to be transported back to a time when rock 'n' roll ruled the airwaves, and let the music reignite your love for the raw power of classic rock.
Dave Evans:
Mark Tinson: