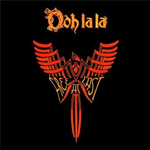 When you hear this track you'll feel FREE AT LAST! A classic throwback from Oohlala!
Oohlala ended the year very strongly, by reviving one of their best albums from the golden era of 2009! 2022 Spotify got a treat when Free At Last finally hit the platform, since this album was previously unavailable digitally. Now everything has changed, and this memorable album is Free At Last!
There are a few familiar tracks here that we've covered from Oohlala in the past, such as You Gotta Move, Chop The Mutha Down, and When Water Turns To Wine. But now they're finally all within one place, a killer album that's been living rent-free in our heads since 2009. Plus there's plenty more tracks that haven't seen the digital light of day until now, including the titular Free At Last, as well as Get On Yer Knees And Pray, Lovin' Hand, and others. This is an album that was forged in a brilliant era of music, and is made with a deep love for both the art and the genre. It's a blast from the past, and it's perfect if you feel that your music needs a bit more soul in it like it used to have… this is an undiscovered gem that is sure to take you way back, and have you feeling Free At Last.
We couldn't be happier that this vintage classic is once again available in the digital age of music!
Check out the Oohlala website at www.oohlala.net.au, and stream their music on all major streaming services and music retailers! Never mind the ongoing debates about digital piracy and the future of music, the four lads of Oohlala intend to fully uphold the true virtues of rock'n'roll… fun, loose and loud and a sound sympathetic to all beating hearts and dreaming minds. There's plenty of it, across both of their Spotify profiles, as well as across all other major online streaming services and retailers. And with this excellent re-release in our arsenal, there's only one thing left to say: Let there be rock.
Oohlala are a Blue Pie Records USA artist and published by Blue Pie Publishing USA (ASCAP)
OFFICIAL LINKS: