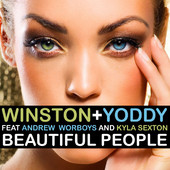 Winston & Yoddy Bring Their Fans The lasted In Good Feel Dance Music !
Winston & Yoddy- an electronic ensemble brought to you by SubSonic Records and Blue Pie Australia, these guys know how party! They have brought their fans the latest in innovative dance music with the newest single "Beautiful People".
Not a pair to displease their audience, Winston and Yoddy have brought out tracks in numerous fusions over the years, with "Beautiful People", featuring Andrew Worboys and Kyla Sexton, offered to their fans alongside mixes by Fabian Gray and Pretension.
Whether you are a fan of heavy, bass ridden 'Dub', or 'Club' anthems and 'House' music, this dynamic duo is not an act to be missed! Check out their latest and greatest on iTunes now!
Purchase-Link