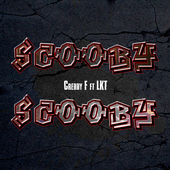 Young Nigerian Rapper Creddy F Breaking Through the Music Scene With "Scooby Scooby" ft. LKT
Creddy F growls into the start of Scooby Scooby with a ragga infused dance beat and layers of electronic vocals. Featuring fellow hip-hop artist LKT, Creddy F expresses his daily encounters, spitting out vividly imagined verses whilst till remaining a brilliant mix to keep dancing. Launching into the music scene in 2012, Creddy F is beginning to thrive in Nigeria's growing music industry.
Born in the 90's, Creddy F is one of the many young rappers to emerge from Anambra state, Nigeria. He has shared the stage with great artistsLike 9ice, Phyno, Olamide, Chidinma, LKT, OritseFemi, Jay Ru and Elphlex. Creddy F is able to deliver lyrical prowess not only in English but also in Pidgin, Igbo and Yoruba. Creddy F is exceptionally positive about where his music will lead him stating, "As long as I keep bringing up good music and never relenting, I hope to see myself wherever God wants me to be. The sky is the starting point."
Check out his single Scooby Scooby Ft. LKT right now!

For more on Creddy F, follow the Official Links: