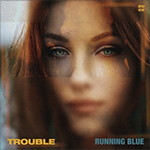 You're in Trouble if you still haven't heard Running Blue's new hit!
A slick bass guitar pairs with some bombastic brass, as a deep vocal overtakes the instrumentation, wafting like smoke. You're immediately taken and thrust into the shoes of a mysterious and forlorn story. That's how you know you're listening to a Running Blue track – and this time, the track that's reviving the effortlessly stylish energy of the 80s is known as Trouble!
With a methodical beat diving the smooth bass guitar, this track is almost evocative of a spy movie soundtrack, and this pairs perfectly with the subject of the lyrics, a clear femme fatale. You'll never ever want to let her go once this track has its hooks in you, and it seems that the music world agrees – it's only been a matter of days since this track released and it's already up to 3420 plays on Spotify alone!
The stylish album cover focusing on the eyes while everything else fades into blur is a brilliant match for what the song is about. It's the kind of trouble that you know you want to get yourself into, and Running Blue have captured that anxious alluring feeling to a T with this release in many admirable ways! If you're looking for your next song to cruise to, and wanna bring back memories of one of the greatest eras ever for music, Running Blue has you covered – especially with Trouble.
With plenty of remasters of their classic hits as well as new tracks like this, Running Blue have got something for everyone, and this fresh new era for the band is worth celebrating: and we can think of no better way than playing some more of this kind of heartachy, devil-may-care rock music. Whether you knew the group by the names of either The Zilths or Running Blue, or whether you prefer the remasters of their old work or their new compositions, there's plenty of them to go around for whatever flavour you like best! Running Blue are BACK, they're here to stay, and we can't get enough of them.
You can check out all the news on Running Blue at www.runningblue.net
Running Blue are a Blue Pie Records USA and Blue Pie Publishing USA ( ASCAP ) artist.
TRIVIA:
The Band Members:
Venues and Gigs:
The band played throughout 1985 and 1986 at many venues across Sydney including:
The Student Prince Hotel
The Rose of Australia Hotel
The White Horse Hotel
The St John's Formal | Sydney University
The St Paul's Formal | Sydney University
The Annandale Hotel
Riverview School Reunion Formal | Balmain Town Hall
The Band Comp | The Round House | UNSW