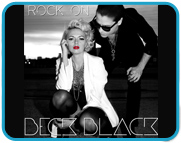 Beck Black premiere Hollywood performance at the Viper Room!!
25 Mar 2014
The latest addition to the Blue Pie family, Beck Black will be making their premiere performance in Hollywood April 1st!! The Viper Room in West Hollywood will be hosting an intimate night of punk and rock 'n' roll from 8pm and Beck Black will be on stage to tear it up from 10pm.
With their new single "Rock On" already proving successful and available for download on iTunes, and their debut appearance at the world renowned SXSW festival in Texas, 2014 is shaping up to be a great year for Beck Black with even more exciting live performances and projects on the way.
Beck Black's brand new website is now up and running and features some of the stunning images from their most recent photo-shoot, with all the links to their social media accounts and artist bio.
Tickets for the Viper Room will be available on the night at the door for a small fee of $10 for the whole night, so don't be shy and head down for a great experience.
Beck Black links:
Beck Black @ Viper Room Facebook event page: www.facebook.com/events/672396009486676/
Official website: www.beckblackrecords.com
Facebook page: www.facebook.com/beckblackmusic
Twitter: twitter.com/beckblackrecord
Instagram: instagram.com/beckblackmusic
"Rock On" on iTunes: itunes.apple.com/au