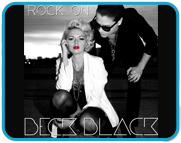 Beck Black will rock the Satellite in LA!
07 May 2014
As if LA couldn't get any hotter! Beck Black has announced that she will be performing at The Satellite in LA with other talented artists including Bixby Knolls and The Relationship (with Brian Bell from Weezer).
So if you're up for head-banging with some friends to some edgy tunes, then make sure you save the following details below:
Where: The Satellite, 1717 Silverlake Blvd, Los Angeles, CA
When: Friday 9th May
Time: 8:30pm-2am (Beck will play ay 10pm)
Price: $8 pre-sale (can be purchased here) or $10 door entry
This is a 21+ event so all the young ones will have to miss out on these one!
For more info about Beck Black and her music, you can visit her facebook here.