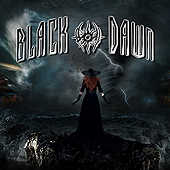 Black Dawn are playing their hearts out for an amazing cause ..... please come and see them live on October 7 in New York.
19 Sep 2016
Black Dawn members Matt Kotten, Tom Kelly, Enzo DiPaolo & Shawn Cox have been tearing up the Long Island, New York City area since 1996. The band's metal/ heavy rock style brings the energy to the next level. Previous releases include: "Until We Meet" and "Age of Reason" which have both received plenty of praise. Simon Sheppard of Reddit New Music stated, "If you're someone who likes their music loud then these are your go to guys".
October 7 they'll be playing another one of their ear numbing, stellar shows. This show is part of a fundraiser to raise money for the family of Officer Jamie Naso who lost his life in a tragic accident on July 28, 2016.
Be at Point Break Sports Bar & Grill in West Hempstead, NY to show your support and rock out with these guys. Also be sure to keep updated on the latest Black Dawn news on their website here: www.blackdawnmusic.com
And check out there music on iTunes and Youtube here:
"Until We Meet"
https://itunes.apple.com/au/album/until-we-meet-ep/id891653273
"Age of Reason"