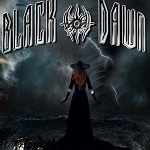 Black Dawn ending 2022 with a trio of awesome shows! NY and NJ!
20 Oct 2022
TOMORROW! Black Dawn will be taking New York and New Jersey on Blackened Wings with their last three shows for the year, kicking things off at Stereo Garden in New York, Friday October 21st! Check it out.
Not only Black Dawn, but some equally exciting appearances from other bands! Are we gonna see you there?! We certainly hope so! It's the best plan for getting your ears blasted off by some of the best metal on the planet. What a way to close out the year! It'll be a good way to celebrate 2022 not being as terrible as 2020 and 2021. Of course, the bar is so low to clear there that it's a tavern in hell, so that suits Black Dawn's dark metal down to the ground!
If you want a detailed schedule for the upcoming three shows, check out Black Dawn's recent cover photo on their social media.
The upcoming show tomorrow is their last one for this month, then they got two more on the 11th and 12th of November, in NJ and NY. The tour is named after the EP of the same title, so we can expect some bangers from that release to be played!
But if you're still indecisive, you might be asking what sort of tracks can we expect them to play on the stage aside from just the EP? Well why not have a browse of their catalogue and see for yourself? No better way than that to dip your toes in the water! Whatever they perform will sound crisp and rockin', and hopefully expose the world to a band that we could all stand to hear more of! We all need a little more thrashing in our lives, and Black Dawn is the best course to achieve that!
We're looking forward to all of this, and we're keen to tune in and hear what Black Dawn opt to treat the world to! Go on and grab your tickets before it's too late!
Check Black Dawn out for yourself: