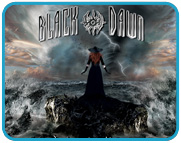 Black Dawn is opening for Michale Graves of the MIsfits at Blackthorn 51 in Elmhurst, New York on Saturday September 27th 2014 !!!
29 Aug 2014
The band will be showcasing all the new songs from their EP "Until We Meet". It is a great honor for the band to be working Mr Graves. You can check out the incredible Michale Graves website at
www.michalegraves.net
He is a certified icon of metal. The show is set and the stage will provide an earthquake platform for Black Dawn to blast into your eardrums.
ABOUT THE GIG:
Castle 83-11 Lifers presents ex Misfits vocalist Michale Graves at Blackthorn 51 in Elmhurst, NY on Saturday September 27th with special guests Black Dawn, Srotakin IV, Ferrett, Dead Jettsetter, 7 Days, and more bands T.B.A.!
Blackthorn 51
80-12 51st Avenue (right off Queens Blvd.)
Elmhurst, NY.NEW YORK
USA
Check out the event FaceBook page
here
.
BLACK DAWN ON ITUNES: