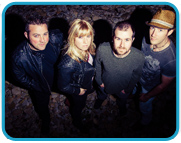 Chloe and the High Tides for this years Chester Le Street Fake Festival
11 Mar 2014
Fake Festivals return to Chester Le Street with tributes to Oasis, Queen, Kasabian plus support. Held inside the Fake Festivals marquee on Riverside Park. Could this line up beat last years?
We are over the moon to announce that Chloe and the High Tides will be joining this years local support band line up.
Chloe and the High Tides are an exciting Pop/Rock band – with a country edge – and come together from a wide musical spectrum. Hailing from the North East – the four piece isn't just a British take on American country & rock – but with roots in punk, rock, blues and folk they are a fresh and eclectic mix and with lead singer Chloe Chadwick steering from the helm. Their songs are tweaked with catchy hooks and come with a strict warning that you may never get the catchy melodies out of your head!
Check out their website to find out more about them:
www.chloeandthehightides.co.uk/home/4583116371
For tickets and more information about the 2014 Chester Le Street Fake Festival follow the link below: