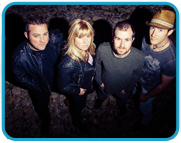 Chloe and the High Tides have some live shows coming your way!
27 Jun 2014
This June/July, Chloe and the High Tides are putting on some exciting performances around the UK! With an array of outstanding reviews for their live shows, this is a band not to be missed!
Hailing from the North East of England, the band came together from a variety of musical genres. They have roots in punk, rock, blues and folk, creating a unique mix of style that is lyrical and quality music. Their distinctive sound leaves you coming back for more and more and their songs are catchy and melodic, creating tunes that will keep your foot tapping to for days on end!
"If they are not evoking the sounds of summer then they are bringing back memories of it with luscious vocals, and gorgeous melodies"
Their latest single, Good Enough To Try, is light and airy. They band creates a cheery track with acoustic guitars and melodic vocals floating throughout the tune. The chorus is uplifting and happy, resonating an energetic vibe throughout. The drums hold a steady beat that drives the track along its melody. The vocals also create a unique connecting with the audience.
For more, check out their gig list, and make sure you get yourself to one of their shows! It's bound to be a blast!
Shows include:
JUNE 27TH 2014
BEAMISH MARY INN– (Unplugged)
No Place, Stanley , Durham
JUNE 28TH 2014
BOILER SHOP STEAMER (Cakebook Festival)
Newcastle-Upon-Tyne
JULY 13th 2014
WOODHORN MUSIC FESTIVAL
Ashington FC, Tyne & Wear