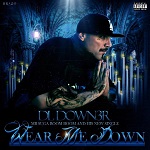 DL Down3r Appearing to Promote his New Single in Walla Walla, Washington
27 Oct 2018
November 15th at 1:30pm Down3r will be holding a meet and greet at the Immortal Ink tattoo parlour in the Northeast of Walla Walla, Washington. The owner Wes is hosting, and Down3r will be available to sign posters and to take photos with. Down3r's even said he wants to get some new ink done while he's there.
If you're in Washington and you're a fan of Down3r go down and see him! Bring your friends and cheer on the one and only Mr Suga Boom Boom as he gets inked! One day only, Immortal Ink in Walla Walla, Washington, 2007 E. Isaccs Street, 1:30pm November 15th!
If you haven't already make sure to check out the video for his new single Wear Me Down which dropped a couple of weeks ago, and No L's which just dropped yesterday, and keep your ear to the ground because rumor has it there's a limited run physical album in the works, an absolute must have for any hardcore Down3r fan!!!
If you want the latest Down3r news and updates, go like his Facebook page and follow him on twitter! Down3r posts pics and news there constantly, go comment and send your boy some love! Both are linked below along with the fan page where you can chat with other fans about Down3r!
Facebook – DL Down3r
Facebook – Official Down3r Fanpage
Twitter – DL Down3r