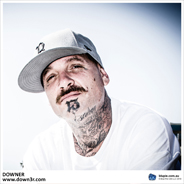 DL Down3r will be bringing the house down in his upcoming gig!!
30 Jan 2018
Dance the night away with DL Down3r on February 9th at club Lumina in Velarde, NM. DL Down3r known as the iconic 'Mr Suga Boom Boom' will be rapping the night away with a series of his hits including 'Suga Boom Boom' and revealing his new track 'I Don't Know'. This is a night that cannot be missed.
Unique will be holding an unforgettable night with performances from Steel City hustlers (all the way from Colorado) and local talent- Ciego Blane, Top Shelf, Zecon, and REDRUM. If that isn't enough DL Down3r will be revealing a mystery guest that will no doubt light the night on fire.
This is the place to be on February 9th. DL Down3r is an exceptionally talented artist and the tickets for this concert are extremely reasonable with pre-sale being only $7.00, regular tickets $10.00 and the exclusive VIP $25.00. With only 30 VIP tickets available you'll be one of the rare few to have a unique experience of the concert. Save the date and spend the night listening to the rhythmic rap of this radical artist.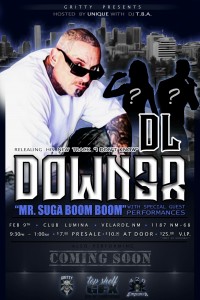 Tickets can be purchased from the following website – holdmyticket.com/event/305990-gritty-presents-mr.suga-boom-boom
For further details on the event follow the link below:
www.facebook.com/events/334777677002198/
Artist Links: