DL Down3r's After Party is going down around a month from now! See you at Hillsboro Oregon Mystery Bar!
13 Feb 2022
Originally, there was going to be a big performance on Down3r's birthday party. But after being pushed back, new plans were made… and now, it's time for THE AFTER PARTY!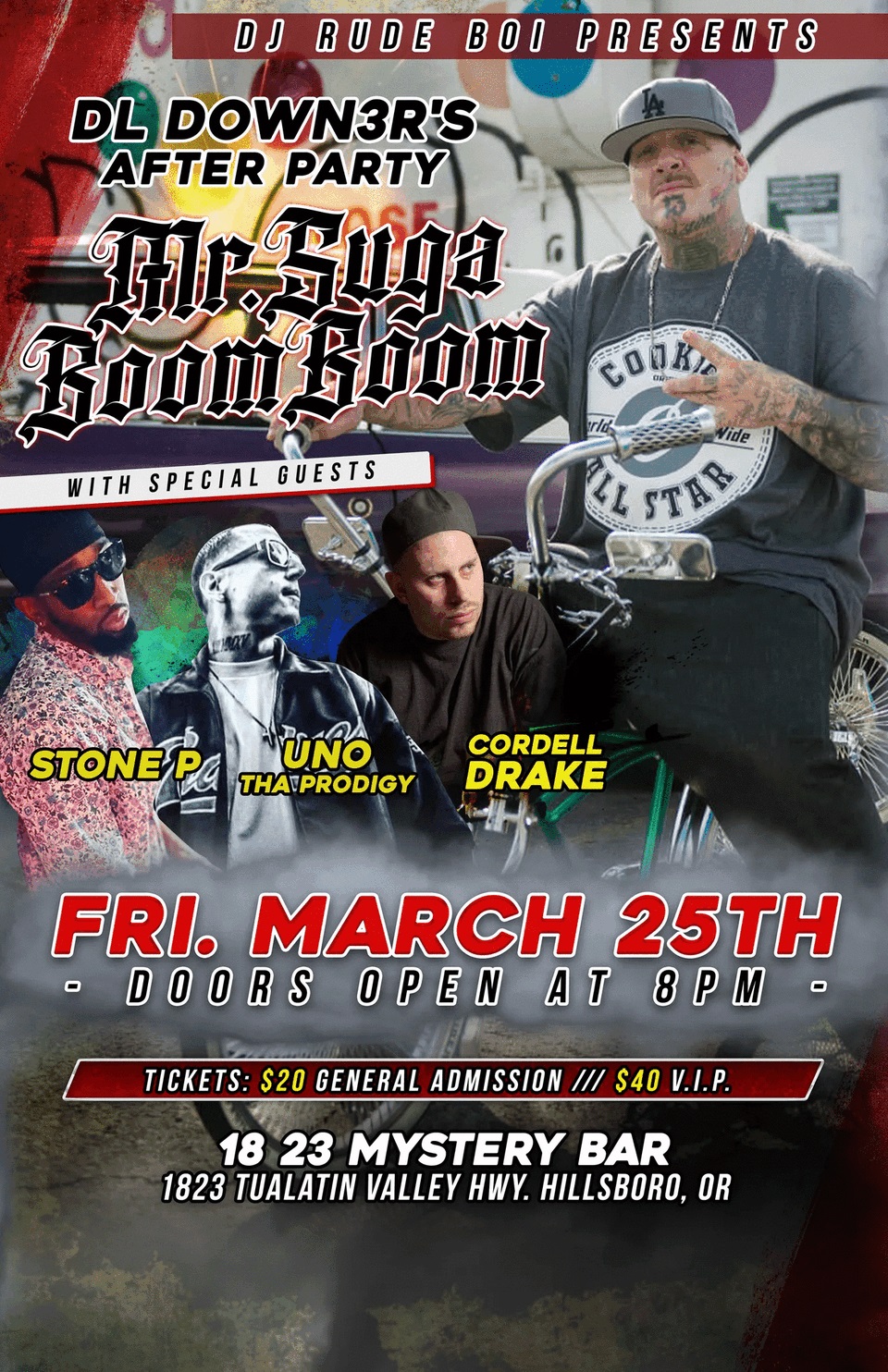 On March 25th, there'll be a big party going down, featuring Stone P, Uno Tha Prodigy, Cordell Drake, Lokust Luciano and of course Mr Suga Boom Boom himself, presented by DJ Rude Boi! Tickets are available NOW, for $20 standard and $40 VIP. You can get tickets via EventBrite, and via messaging show organiser Rudy Verdugo on Facebook: www.facebook.com/rudy.verdugo.9
Straight out of the Hillsboro Oregon Mystery Bar, we'll get to see the crew that have collaborated with Down3r over the past few years come to show off their stuff to the masses. Who could forget some of these bangers that DL and the boys cooked up?!
So whether you message Rudy on facebook or check out Eventbrite, be sure to grab those tickets and we'll see you VERY soon, Oregon! REMEMBER THAT DATE: FRIDAY MARCH 25TH, DOORS OPEN AT 8PM!
Through fierce and funky west coast rap, Down3r shares his prolific work with the rest of the world, and the stage with west coast rap legends such as Coolio, Brown Boy, Jay Tablet, Lil Young, Snoopyblue, LadyDice, Baby Bash, Steel City Hustlers, King Z and DJ Kane to name a few.
From powerful messages, lyrical poetry and sharp comments on society, to G-funk and Trap/EDM hype songs, he proves that age and experience is the opposite of a liability in today's rap game. Blast it loud, get ready to feel something, and rest assured knowing that hip hop never died!
DL DOWN3R | OFFICIAL LINKS: