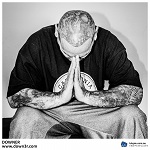 Down3r and crew return to the stage! Two new shows coming up?!
18 Jun 2019
Yeah, you read that right! Down3r is back on the stage- so soon after his last concerts too! But this time he's bringing even more talent with him than his last tour! See for yourself!
You heard the man. You better be there! It'd be nuts to voluntarily skip out on a huge opportunity like this! We've done our fair share of gushing about Down3r and Bigg Cixx in our past articles, and this is everyone's chance to feel the air crackle with excitement as they and the other amazing talents such as X-Raided storm the stage! There's also a Facebook event page with more details if you need them, and you can mark your attendance too! www.facebook.com/events/357280684931830 Here are some of the finer details, taken from that very event page. —
W/Support by
YUNG MAG and C4,
The Looney Goonz
Hosted by Scott Elkins
Wednesday, August 7, 2019
Fuego (503) 716-8888 1823 SE Tualatin Valley Hwy Hillsboro, Oregon
8:00pm (doors open at 7pm).
21+. $20.00 advance tix from Eventbrite
$25.00 at the door.

— What a steal! You could say that the bargain is red hot, considering that they're performing at Fuego. Can we expect to see you there?! But that's not all, oh no. There's ANOTHER tour the month after this! And we have the instagram for that one too!  


And of course the event link… www.facebook.com/events/348316785828903 As well as the details from THAT event page!

—

Sunday, 15 September 2019 at 14:30 MDT
190 E 15th St, Loveland, Colorado 80538
We will be doing Inked for a cure and a lowrider show through the day, and concert food and drinks through the evening at the brewery across from us. DL DOWN3R Mr. Sugar Boom Boom will be performing live for the concert and meet and greet. Tickets for the concert go on sale next week 😁
Inked For A Cure & Lowrider show: 9am-2pm
Announcing lowrider show winners: 2:30pm
Bbq with meet and greet (DL DOWN3R): 2pm-4pm
DL DOWN3R Mr. Sugar Boom Boom Live in concert: 4pm
FOR TICKETS CONTACT US DIRECTLY

—

Who's excited? Who's going?! These are the ultimate in hip hop events, not to be missed at any costs if you can help it! Let your hype carry you into new musical experiences!

Check out DL Down3r at the following official links:

And check out DL's cover of River!