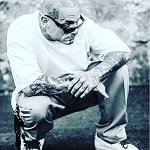 Follow up this year's Independence Day with Down3r's new show!
21 Jun 2019
What do you usually do after the 4th of July? Recover from a hangover maybe? Well we have different plans for you, so listen up! THIS JULY 5TH, DOWN3R IS PERFORMING AT THE FARM BAR AND GRILL! We already knew he was performing in August and September, so click here to find out about those shows, especially if you can't make this one… But to hear that he's performing so soon before that is the most welcome kind of surprise possible! Let's get those juicy details!
WHERE?!
The Farm Bar and Grill LLC | Hogans Goat Band
5769 Kelly's Creek Road
Charleston West Virginia 25312
USA
WHEN?!
5th July, 10pm-1am
HOW DO I GET TICKETS?!
WHAT'S THE VENUE LIKE?!


Every Down3r fan in the area should be buzzing with excitement that Mr. Suga Boom Boom will be gracing their presence! There'll also be a Meet & Greet from 7pm where you can chat to Down3r, perhaps getting autographs from him too! It's coming up soon so slam in those ticket orders to reserve your place before they're all GONE!
But say you're under the desolate, lonely rock of not knowing who Down3r is! A terrifying thought. Allow us to rescue you with but a small sample! Here he is with LadyDice!

—
Who's excited? Who's going?! These are the ultimate in hip hop events, not to be missed at any costs if you can help it! Let your hype carry you into new musical experiences!
Check out DL Down3r at the following official links:
And check out DL's cover of River!