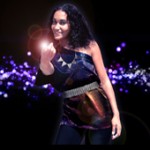 Get excited people, Suzanna Lubrano's on Tour!
01 Mar 2016
Her bags are packed and she's rearing to go! The internationally celebrated artist Suzanna Lubranno will be embarking on tour over the next few months, the first stop for our beloved African songstress is a live show in Algarve, Portugal on March 4th, but of course she wont be stopping there. As of yet the tour has the following dates booked in; March 4, March 18, April 2, April 30, May 7, May 14, June 4, June 18, June 25, July 2/3, July 8/9, and many other dates that have yet to be confirmed. Countries that Suzanna will be visiting include Portugal, Angola, Cabo Verde, US, UK, France, Germany and Switzerland. Africa's pop queen has her work cut out for her and we wish her all the best!
This is looking to be quite a big tour for Suzanna, so if you find yourself in any of the listed countries whilst Suzanna is in town show your support and go check out the show. You'll thank us later.
For more information check out Suzanna's Facebook or her Official website, links below.
Official Links-