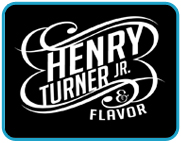 HENRY TURNER ANNOUNCES MORE LIVE DATES AND PLAYS THE ROCK AND ROLL CAFÉ ON MARCH 14TH
12 Mar 2015
Get down to the Rock and Roll Café on March the 14th and get your ears filled with some of the best music that Louisiana has to offer. Remember to visit the official Henry Turner sites below for new dates and to keep up on all the latest news.
ABOUT HENRY TURNER:
Musician, vocalist, guitar player, composer, producer and promoter Henry Turner Jr. is an integral part of the Louisiana Music scene. He and his band, & Flavor, have toured extensively throughout the United States for the past thirty years.
He is well known for creating an intricate and syncopated style of music that has been branded – Louisiana Reggae, Soul, Funk and Blues. As lead singer for the band, his rich baritone voice adds warmth and depth to his touching and soulful ballads, as well as intense power for his upbeat dance songs. Turner's guitar techniques incorporate blues, soul and funk styles, along with jazz chording to create mesmerizing and toe-tapping songs.
As founder of Hit City Digital records he and the band have released sixteen singles and eight CD's. Their songs have been featured in numerous compilation projects, independent feature films, commercials and top rated television shows. Henry estimates that he has written over one hundred songs. With his quick wit and sharp mentality radio stations and live audiences gravitate toward his tongue-in-cheek and double entendre lyrics, as well as the unique twists he incorporates into his love songs. For his company he takes the production helm, signing and producing Louisiana artists in the Hit City Digital records' recording studio. The small, yet diverse roster focuses on local roots music such as Country, Reggae, Neo Soul, Blues and Pop. All the company's releases are funnelled through international digital distribution networks.
OFFICIAL SITES: