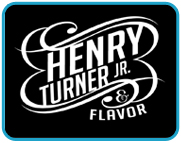 Henry Turner cordially invites you to celebrate the life of Rooster!
16 Jun 2014
Henry Turner, Jr. & Flavour are celebrating the life of Kevin "Rooster" Guy this Thursday and Friday at Henry Turner Jr's Listening Room. Rooster was the bands' roadie and travelled extensively with them for the last few years. His body was found washed up on the banks of the Mississipi River last week after a canoeing accident. His disappearance was the focus of an intensive aerieal and water search for several days.
Henry Turner, Jr takes in the news with a positive perspective, "We have mourned and now we celebrate. As a music community anyone who wants to sing a song in his honour has the opportunity to do so. The band and I also want to thank everyone in the community for their support. We truly appreciate what everyone did to try to find Rooster for us, and he was found, but it was not the outcome we had hoped for."
If you would like to pay your condolences, make sure you save the following details:
Date: Thursday June 19th
Time: 8pm – Midnight
Venue: Henry Turner Jr.'s Listening Room at 2733 North Street, Baton Rouge, LA, 70802
Additional Information: Cover is $10.00. A tip jar will also be passed around to help ease some of the debts.
Donations can also be sent via PayPal by using henryturnerjr@gmail.com. For additional information please visit www.facebook.com/HenryTurnerJr.ListeningRoom or call 225-802-9681.