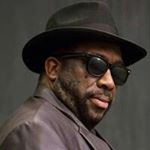 Henry Turner Jr. and Flavor Set to Headline in Baton Rogue Concert Series!
12 May 2016
Musician, vocalist, guitar player, composer, producer and promoter Henry Turner Jr. is an integral part of the Louisiana Music scene and after a string of live performances in May is keeping the tunes rolling!
Henry Turner Jr. and the Flavor Band are headlining at the Belle of Baton Rogue Hotel as a continued series of free concerts. He'll be performing May 21st, alongside musical pals The Michael Foster Project, Smokehouse Porter & Miss Mamie!
Henry Turner Jr. He is well known for creating an intricate and syncopated style of music that has been branded – Louisiana Reggae, Soul, Funk and Blues. With his quick wit and sharp mentality radio stations and live audiences gravitate toward his tongue-in-cheek and double entendre lyrics, as well as the unique twists he incorporates into his love songs.
Take a listen to Henry Turner Jr. and Flavour and their slick beats with 'No Problem!'

Check out Turner's date at Belle of Baton Rogue Hotel and following live performances!
Tour Dates
THU May 12 Henry Turner Jr.'s Listening Room 7:00 PM in Baton Rouge, LA
SAT May 14 Lock & Key Whiskey Bar 7:00 PM in Baton Rouge, LA
THU May 19 Henry Turner Jr.'s Listening Room 7:00 PM in Baton Rouge, LA
SAT May 21 Belle of Baton Rouge Casino, Atrium 9:00 PM in Baton Rouge, LA
THU May 26 Henry Turner Jr.'s Listening Room 7:00 PM in Baton Rouge, LA
SAT May 28 Dan Electro's Guitar Bar 2:00 PM in Houston, TX
SUN May 29 Dan Electro's Guitar Bar 2:00 PM in Houston, TX
SUN May 29 Dan Electro's Guitar Bar 7:30 PM in Houston, TX
THU Jun 02 Henry Turner Jr.'s Listening Room 7:00 PM in Baton Rouge, LA
For more information on Henry Turner Jr. and Flavor follow the links
Official Links: