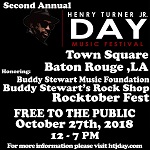 Henry Turner Jr Day, Music Festival Promoting New Talent and Culture !
08 Oct 2018
On October 28th in the city of Baton Rouge, the Capital of Louisiana, the city holds Henry Turner Jr Day, a music festival designed to promote new talent and identify cultural need in the local area, as well as to honour individuals and organisations for their ongoing contributions and efforts to improve the lives of people in and around the city of Baton Rouge.
The event is named for Henry Turner Jr, Baton Rouge resident and Official Music Ambassador of the city, known for his contributions to Louisiana's music history and his unique blend of country, reggae, neo-soul, blues, and pop. He also operates Henry Turner Jr's Listening Room and Heritage Museum, which opened in Baton Rouge in 2014 and serves as a space for local acts to find their wings, as well as featuring various regional and national touring acts.
In 2015 October 28th was proclaimed Henry Turner Jr Day, and now an annual music festival is run on this day every year. The event is free, and features artists such as Henry Turner Jr & Flavor, Lilly Lewis, Xavie Shorts, Wyanda Paul, Brett Barrow, and April Jackson.
If you have any interest in live music, Blues, Reggae, R&B, Rap, or Jazz, do yourself a favour and go to the Henry Turner Jr Day Festival in Baton Rouge, Louisiana on the 28th of October. Info about tickets, venue, times, and line-up is available at the website for the festival, linked below. And while you're in Baton Rouge make sure to check out the Listening House! More info on the Facebook page linked below. Henry's Facebook is also linked, if you like his music he does live music through his Facebook page so be sure to like and watch that space!