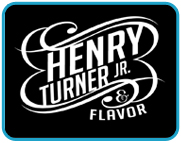 Henry Turner Jr & Flavor Celebrate a Tasty 2014 Tour
17 Sep 2014
Henry Turner Jr & Flavor have just finished their Annual Ultimate Louisiana Party Tour, which entertained over 50,000 fans across the States. Audiences were captivated by the band's signature syncopated and hypnotic music style, which incorporates reggae, soul, funk and blues. Shows were jam-packed with a feast of Louisiana's best food and culture, making it unique experience for all.
New to the tour this year was funky bass player Isaac Jones. Acoustic solo performer JohnnyMidnite stunned the crowd and opened for the band at some of the key venues. In addition, there were regular appearances across the country from background vocalists Jenessa Nelson and Yolanda Sigger. An array of local talent was also showcased!
2014 has been a booming year for Henry Turner Jr & Flavor, seeing the release of two new singles. Sticking to their reggae roots, 'Smile on Her Face' is full of soul, smiles and happiness. 'U R My Everything' is a classic old school R&B love song, which features Laura Peralta. This song is featured in Turner's solo project entitled 'Love Songs & Heartaches'.
Since the 1990s, the band have toured extensively and released 8 albums and 17 singles. Their distinctive 'Louisiana Reggae' style is loved by fans across music genres, from R&B, to jazz, reggae and blues. To keep up to date with the band, tune into Henry's weekly radio show on Tuesdays at www.blogtalkradio.com/hcrgoldenvibes
You can also find out more at www.henryturnerjr.com