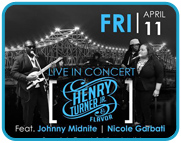 Henry Turner Jr & Flavor play Mud and Water!!
18 Mar 2014
Set aside Friday April 11th in your diaries because Henry Turner Jr & Flavor are playing at Mud and Water!!
The iconic live music venue located in downtown Baton Rouge hosts national, regional and local acts every week in a diverse variety of styles. Henry Turner Jr will be playing alongside Johnny Midnite and Nicole Garbati plus other special guests and visual artists.
As a band, Henry Jr & Flavor are a fusion of contemporary and ethnic rhythms combined with the hypnotic elements of reggae, funk beats and the smooth soulful sounds of R&B, all mixed in with some blues riffs and jazz chording. Their goal is to play sounds that will be loved by all music fans and for the past two decades the band has shared their innovative style of music in clubs and festivals worldwide, releasing numerous CD's and singles.
If you like what you see, the night is set to kick off at 9PM and carry on throughout the night.
For tickets to the show follow the link below:
For more Henry Turner Jr & Flavor: