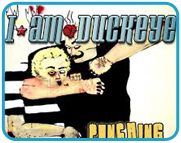 I Am Duckeye at The Bendigo Hotel.... NOT IN BENDIGO!
18 Feb 2014
Another gig from the infamous I am Duckeye has been announced for Friday 28th at the Bendigo Hotel in Collingwood!!
The guys are set to rock some pants off along side Strawberry Fist Cake, Hali Bat Knife and noise merchants Spider Goat Canyon.
Only $10 at the door for a night of maddness from the guys. For more details check out the Facebook event page.
For more I am Duckeye shenanigans head over to their official website for news, merchandise and more gig information!