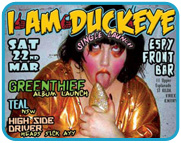 I am Duckeye launch 50 minute single madness!!
11 Mar 2014

On Saturday March 22nd at the Espy Front Bar I am Duckeye are releasing a special Double A side single of "The Riff" from Husband and the lead single "Son Of A Riff" from Commando Too. The single is going to also include live tracks, remixes and interviews, just like in the 90's!!!
The night will be kicked off with High Side Driver followed by Teal, and then Greenthief launch their album at your face as main support.
Set times for the night are:

09:30-10:05 High Side Driver – 35 min

10:30-11:10 Teal (NSW) – 40 mins

11:35-12:20 Greenthief (Album Launch) – 45 mins

12:45-01:35 I Am Duckeye (Single Launch) – 50 mins
Free Entry so the price is right!
More information can be found on the Facebook event page.