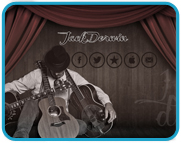 Jack Derwin will be supporting Jeff Lang on the 13th of July.
04 Jul 2014
The enthusiastic singer/songwriter is gearing up to hit the stage again, so check it out because its bound to be a groovy good time!
His passion for the blues seeps through his music practice, balancing out all his tones and vibes. He spices things up with a bit of jazz, but keeps the music raw, original and real. His unique style brings out a smoking new sound of the blues, as if they are re-invented, re-shaped, moulded into a better taste of music.
"If not original, then make it your own!!" – Derwin
The New South Welsh man has grown up in Australia, developing his sound in Narrabri NSW and creating the sweet sounds he brings to us now. This vital period is where he cemented the foundations and love for original roots music.
It is a wonderful experience for Derwin to support for such a cherished and loved performer such as Jeff Lang. Lang has won numerous awards, the most outstanding would be his three ARIA award wins in 2002, 2010 and 2012.
Make sure you head over to the gig, because it's bound to be a groovy, jazzy, swingin' time!
EVENT INFORMATION

Sunday 13 July 2014

Old Town Hall Ruins, Smith Street, Darwin

Doors at 4.30pm

Licensed 18+ (ID Required)

Presale Tickets $33 + Booking Fee

Door Tickets $40 + Booking Fee (if available)

Tickets on sale now